Ross Spiller
Trainee Solicitor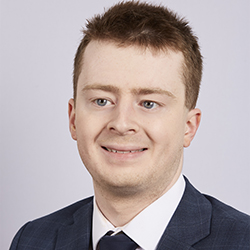 "I am a Trainee Solicitor in the Community Care Law and Employment Law Teams. As someone born with a visual impairment, my first-hand experience means I am passionate about protecting the rights of people with disabilities or those who suffer from long-term health conditions, both in the community and in the workplace."
Intro
I joined Martin Searle Solicitors in 2017 and originally worked in the Support Team. I became a Community Care Law Paralegal in 2019 and have developed my knowledge and interest in this niche area of law. I work hard to ensure that vulnerable individuals do not face unnecessary barriers in obtaining the correct care and support, and accordingly, live their life to the fullest.
As part of my training, I am also completing a seat with the Employment Law Team. I am enthusiastic about developing my knowledge and experience of discrimination law.
Expertise
I am developing my expertise in a number of areas:
Local Authority arranged care and support packages and the care planning process. In particular, care and support for young adults and those transitioning from children's services to adult's services.
Mental capacity assessments and the best-interest decision making process. In particular, I have advised clients on how to protect their relatives property and financial affairs when they lack mental capacity to do so themselves.
I have good knowledge of issues that are ancillary to care and support planning, such as welfare benefits and disability discrimination matters.
Through my seat in Employment Law, I am developing my experience in discrimination claims and I am constantly alert to the potential of these issues arising in Community Care Law matters.
Clients
I assist a variety of clients, including parents of young adults who have care and support needs and adults who are seeking advice in relation to planning and paying for care for their parent. I act for clients with disabilities. I also have a number of professional clients, including other solicitors including Professional Deputies, who are seeking assistance in dealing with health and social care services on behalf of their respective client.
Qualifications
I completed my undergraduate degree in Business with Human Resource Management at the University of Sussex in 2016. I subsequently completed the Graduate Diploma in Law in 2017 and the Legal Practice Course in summer 2020, having studied the course on a part-time basis whilst working here.
Other experience
I have taken part in a pro-bono Employment Law advice clinic as part of my LPC. During my Graduate Diploma in Law, I was the elected Student Rep for my course and I enjoyed dealing with a wide variety of administrative tasks as well as organising social events. During my time at Sussex University, I was part of the Access Sussex campaign, which aimed to improve the accessibility of the campus facilities for students with disabilities. I have attended various training courses on discrimination law and the Equality Act.
I have a life too
I love living in Brighton and enjoying everything that our diverse and vibrant city has to offer! In my free time, I perform stand-up comedy at local venues around Brighton. I enjoy musical theatre. I'm also passionate about fitness and enjoy going to the gym and running.
Get in touch with Ross