Amanda Kallend
Office Manager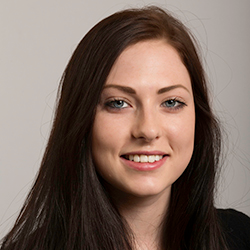 "As Office Manager, I make sure everything is running smoothly and I oversee the management of our front office in Brighton."
Intro
I manage the front-of-house team who are the first point of contact for all new and existing clients. I ensure everyone provides a friendly and efficient service so that our clients receive expert support and advice from our legal teams as quickly as possible.
Expertise
I am responsible for recruitment and HR at our firm. As a qualified first aider I make sure the firm is up to date with the latest health and safety regulations.
Qualifications
I studied History of Art (Visual Culture) at the University of Brighton and graduated in 2013 with a 2:1. I have worked at Martin Searle Solicitors since October 2014.
Other experience
I work closely with our Finance Manager to make sure our accounts are in order and oversee our debt collection.
I have a life too
I enjoy viewing art, cooking and travelling when possible. I try to make the most of living in such a vibrant city, and love to explore the great restaurants Brighton has to offer.
Get in touch with Amanda
Sign up to our Newsletter