Lily Grunwell
Team Assistant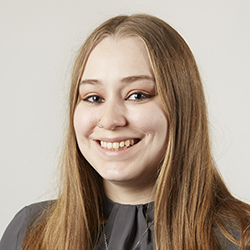 "I love working at Martin Searle Solicitors because of our friendly and supportive approach to clients as well as our commitment to Corporate Social Responsibility"
Intro
As a Team Assistant I am the first point of contact for all clients. I listen to people and efficiently gather the necessary information to help. I also provide administrative support to all our lawyers across both our Employment and Community Care Law teams. I volunteered to be our Environmental Champion because I feel strongly about climate change.
Qualifications
I graduated from the University of Brighton in 2018 with a degree in Politics. I completed the Graduate Diploma in Law at the University of Sussex in 2019. I am currently studying for my Legal Practice Course with a Masters in Law at the University of Law.
Other experience
I have carried out a large number of roles across the retail and hospitality sector. I have also been an intern with the Born Free Foundation, which gave me invaluable insight into the European Union and international law.
I also volunteered with the NHS Support Federation which gave me an insight into the budgetary and staff shortages the NHS faces, on a daily basis.
I have a life too
I love living and going out with friends in Brighton to experience a wide range of restaurants, live music and events in the city. I am passionate about animal welfare protection and stay up to date with politics and current events.
Get in touch with Lily