Chloe Scarr
Associate Solicitor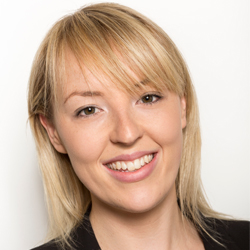 "I have extensive experience in handling complex cases and guiding my clients through difficult issues. I provide clear, helpful and pragmatic advice to my clients whether that is through challenging decisions made by Health and Social Services or litigating in the Court of Protection."
Intro
Based at our Brighton and Hove office, I represent Professional and Lay Deputies and Attorneys, family members, carers and service users across England. My expertise covers the full range of Community Care Law advice we provide.
My role also involves providing bespoke in-house training for other legal professionals and speaking at conferences for both legal and financial professionals. In addition, I am a guest lecturer for various professional learning and development providers including MBL and SFE, covering health and social care funding and Court of Protection litigation.
Expertise
I have particular expertise in:
Services for Professional Deputies, including

Part 35 Expert Reports about care funding and Court of Protection costs within Personal Injury litigation
Casework support on Health and Social Care Law issues for Professional Deputy teams
Assisting with preparation for the OPG Professional Deputy Standards Audits
In-house training for Professional Deputy teams on the Care Act paying for care rules, NHS Continuing Healthcare and Health & Welfare litigation.

Planning and Paying for Care, including care and funding disputes with Social Services under the Care Act 2014, s117 aftercare disputes, Direct Payments, challenging financial assessments and deprivation of capital
NHS Continuing Healthcare including Personal Health Budgets
Safe discharge from hospital
Mental Capacity Law, including:

Lasting Power of Attorney and Deputy applications (contested and non-contested)
Safeguarding issues including Court of Protection Applications
Litigation and advocacy in Court of Protection contested proceedings
Best Interest processes
Deprivation of Liberty Safeguards
Clients
I act for the legal profession, specifically Professional Deputies and Attorneys, private client teams and personal injury lawyers. I also represent lay Deputies and Attorneys who require help and advice in various issues within Health and Social Care Law.
Qualifications
I graduated from the University of Brighton with First-class honours in Criminology and Sociology in 2008. In 2009 I took the law conversion course at the University of Brighton. I graduated with a Commendation in 2010 and was awarded 'The Sweet & Maxwell Law Prize for the Best Postgraduate Diploma in Law Student 2010′. I then completed the Legal Practice Course and graduated from BPP Law School with a Commendation in 2011. I qualified in January 2014.
Other experience
As well as providing advice on Health and Social Care Law issues, I attend various meetings with CCGs and Local Authorities. I represent clients at strategy, round table and review meetings. I also assist and advise clients in preparation for Best Interest Meetings for close friends or relatives who have lost the capacity to make decisions for themselves.
I have personal experience as an Attorney and carer for a relative which deepened my understanding and knowledge of these roles and of Alzheimer's disease. I appreciate the difficulties that a lot of my clients face and enjoy helping to resolve these often stressful situations.
I have a life too
I enjoy cooking and experimenting with new recipes. Socialising and spending time with my family are also important to me and I think Brighton is a perfect setting for this.
Get in touch with Chloe