A Decade In Business: We've Come A Long Way, Baby
We are pleased to announce our party plans for our 10th Birthday which, as always, involves much wine, fantastic music and the opportunity to raise funds for Brighton & Hove Citizens Advice Bureau. Many of you will be aware that with the withdrawal of legal aid it has become almost impossible to access free legal and welfare rights advice. Brighton CAB provides invaluable advice and information, using both paid workers and volunteers.
We hope that by using our 10th birthday as a fundraiser you will meet the people who keep the CAB alive whilst also joining us to celebrate the fact that "we've come a long way (baby)."
Cate Searle and I are delighted to be celebrating our 10th anniversary. In 2004, our aim was to set up a community law firm serving both individuals and our local business community. Of course "local" now includes another three offices across the south east whilst our main office is still in Brighton.
How it all began
Cate and I were students at Sussex University, both participating in the Occupation of 1986. We became firm friends when we met each other in 1990 on the part time law conversion course at Brighton Polytechnic . Cate went on to run a CAB in a mental health hospital in Epsom whilst I went to be a paralegal at Thompson's, a trade union law firm.
14 years later over a bottle of wine we decided to start up our own law firm. Cate relocated back to Brighton from London and I left a commercial firm to establish ms solicitors. This abbreviation in our firm's name was very apt as we were an all female firm. Stuart Markless then joined us in 2008 – a breakthrough appointment in the name of equality and diversity indeed! Stuart had worked for many years as the employment law advisor at Brighton and Worthing CABx before working with us, so he fully appreciates the demands placed on the CAB.
Highlights
Our highlights include winning awards such as:
Sussex Business in the Community Award 2010
Digital Media Campaign of the Year 2012 for our pregnancy and maternity campaign "Mind the Bump"
Boss of the Year Award for Cate Searle in 2012.
We have also worked hard to achieve Lexcel and Investors in People accreditation, set up a legal expense employment unit for Saga and AA, and established a community engagement programme that sees our lawyers providing free training and advice worth approximately £60,000 per year to charities and voluntary organisations.
Where are we now?
Most importantly, we have grown from 4 to a fantastic team of 14, who work hard to deliver our employment law and community care legal services and who really do give a damn about all of our clients. Our client feedback surveys show that 96% of our clients would recommend us due to the excellent quality of care we provide and the great outcomes we achieve.
Time to celebrate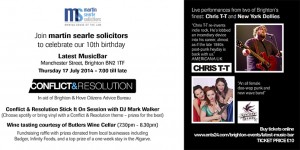 We'd love you to join us to celebrate our achievements on 17 July at Latest MusicBar in Brighton.
Find out more about the party by clicking on the flyer (right) or visiting our event post.
Do tell your colleagues, friends and relations and we look forward to seeing you!