We Won! Our Night At The Gatwick Diamond Business Awards
Now that we have recovered from our excitement and hangovers, I thought I would divulge all about our night out at the Gatwick Diamond Business Awards. We were thrilled to win the Digital Media Campaign of the Year Award for our "Mind The Bump" pregnancy and maternity discrimination campaign.
The event was hosted by Rory Bremner, who was very funny. I last went to see him in 1996 and he is just as funny about the coalition Government as he was about the previous Tory Government.
I had a good feeling that we were going to win the award at the pre-reception drinks. Our award was judged by Amanda and Jeremy from Gatwick Airport. I jokingly told them that at a previous awards ceremony I had refused to go up and get my trophy as I had only been a runner-up (true!). Fortunately there was no uncomfortable silence but Jeremy did laugh like a drain and pretended to frog-march me out of the building.
My co-director Cate Searle and I were very lucky to be sitting at a great table which included attendees from Gatwick Diamond Jobs and recruitment group Hays. We began to feel even more optimistic when the G4S delegates on our table won one of the first awards for Green Business Champion. We definitely felt we were on the winner's table.
By the time we were called up as winners of our award, we were a little worse for wear. Fortunately Jeremy Taylor, the organiser of the awards, was insistent that none of us were allowed to give speeches. Once we had had our celebratory peck from Rory Bremner and our photograph was taken we were quickly escorted to the next room to give an interview in front of a camera.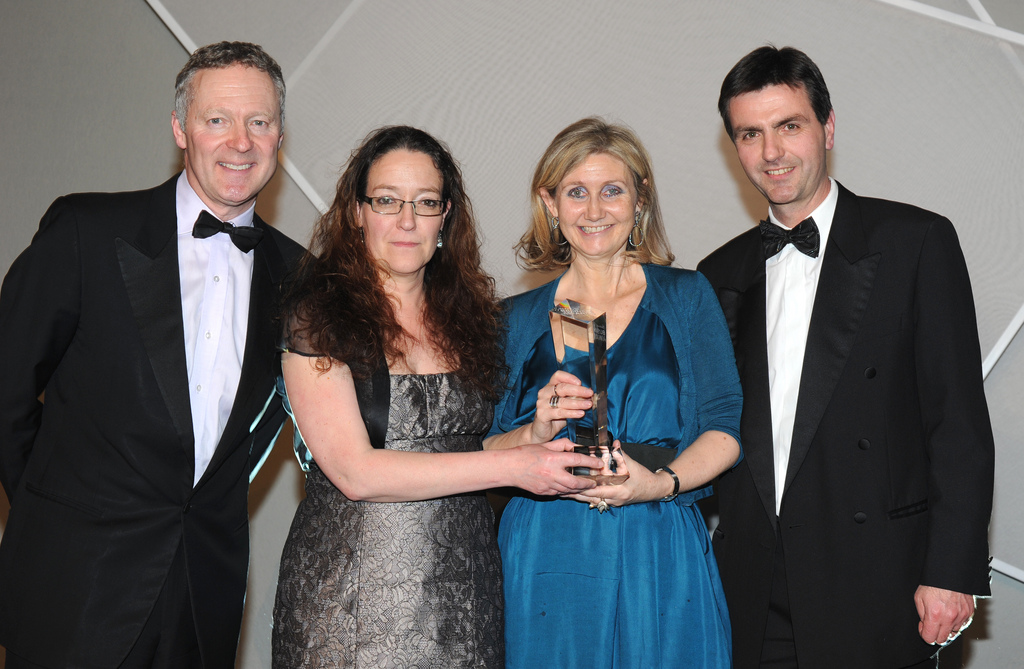 Cate immediately whisked our beautiful glass trophy to our hotel room as we have a bad habit of losing valuable items on work outings. Consequently, when everyone came over to congratulate us, they were a little concerned that I had neither the award nor Cate! In her excitement as she emailed all her friends and family about our win she missed the rest of the award ceremony and somehow managed to lose our company credit card in the process.*
At the after show party we embarked on some dodgy disco dancing and much fun was had.
We would like to thank the judges of our award for recognising our campaign. We'd also like to thank all of the attendees from the Gatwick Diamond area, who were great company, and we look forward to seeing them all again at future events.
* I felt very smug that this time it was Cate who had been the forgetful one. This didn't last long, as I then discovered I had lost my glasses during the evening. So I also wish to extend a big thanks to the staff at the Copthorne Effingham Park Hotel for promptly sending them back to me.
(photo: Jon Rigby)