NHS Continuing Healthcare Article By Cate Searle Features In Private Client Adviser
As one of the relatively few NHS continuing healthcare specialists in the UK, I'm often asked to provide expert opinion and speak at events to advise both professionals and the public on issues surrounding ongoing healthcare funding. It's an incredibly complex area of the law which, as well as being massively rewarding on a personal level, can also be full of pitfalls for people who are unfamiliar with the processes and the level of bureaucracy involved.
I've recently had the pleasure of contributing an article to Private Client Adviser, a great magazine "offering a truly modern and practical perspective on private client practice". I'm always keen to take on the opportunity to help guide people through the intricacies of community care law, and I was excited to learn that my article would also be the cover story for this edition of the magazine.
Thanks to Private Client Adviser, we're able to offer a free PDF download of my article Health Check: How to improve your chances of securing NHS continuing healthcare funding. Just click on the article image below to view the article online, or right click and save the article to your computer.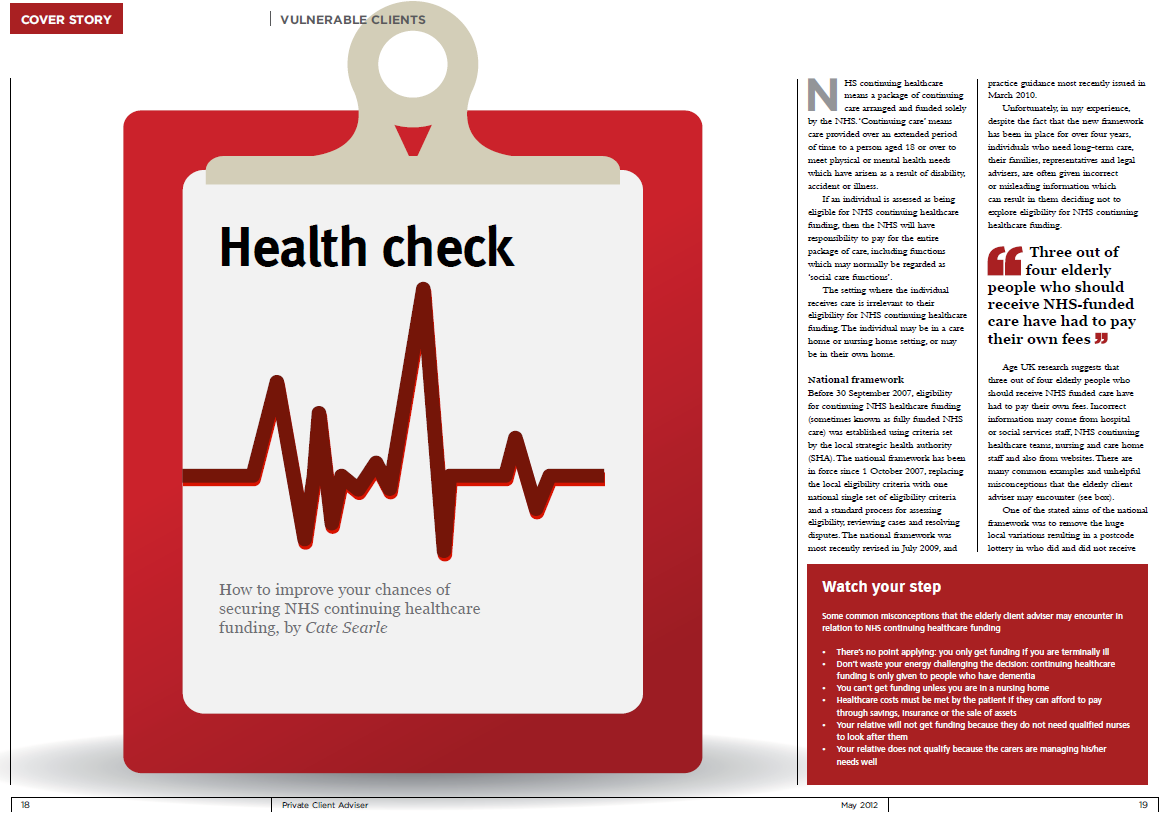 In the article I cover areas relevant to NHS continuing healthcare funding such as:
What NHS continuing healthcare funding involves, who may be eligible, and the controversy surrounding the "postcode lottery" many clients find themselves in
Common misconceptions that advisers and clients may have about care home funding
The deadline for reclaiming care home fees recently announced by the government
Practical tips for advisers handling NHS continuing healthcare cases
If you've got any questions or concerns about NHS continuing healthcare funding, either for yourself or a close relative, please contact me at cate@ms-solicitors.co.uk.
(This article first appeared in Private Client Adviser – www.privateclientadviser.co.uk)