Brighton Business School Awards for Excellence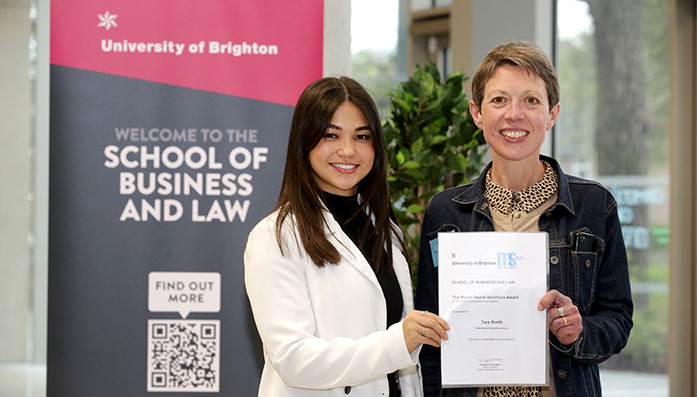 We are delighted to once again sponsor the Best Employment Law Student award at Brighton Business School's Awards for Excellence. We congratulate Tara Smith – our 10th winner.
Directors Cate Searle and Fiona Martin attended Brighton University to study the part time Law Conversion course from 1990 – 1992 before embarking on their Law Finals.
This award is currently presented by Clare English, a member of our Community Care Law team. Clare was a graduate of the Brighton Business School's Graduate Diploma in Law in 2014 which is where Fiona met her. She was spotted collecting a number of best student prizes and Fiona struck up a conversation with her and encouraged her to apply for a job in our support team.
Within a few months of joining a role came up as a paralegal and Clare completed her training as a Legal Executive. Clare is now a key member of our Community Care team and was recognised as a "Rising Star" by the Legal 500 this year.
Fiona says "Cate and I benefitted from an affordable conversion course where we could also continue to work while we studied. We wanted to put something back and are pleased to have celebrated the achievements of so many talented students over the past ten years. And of course this is where we met Clare who does great work at our firm. So we hope this will help with Tara's future career plans – well done Tara."
All students receive a £50 voucher and more importantly a week's work experience with our award-wining Employment Law team. This not only helps builds up their CV so students are successful in obtaining a training contract but this also provides a practical insight into the world of Employment Law.