Martin Searle Solicitors continue to be ranked as a Leading Firm in 2022 Legal 500 rankings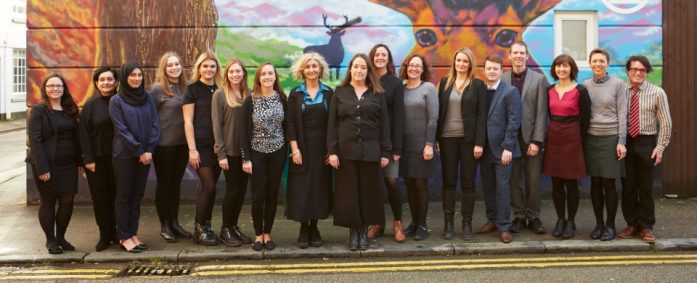 We are pleased that once again our Employment Law and Community Care Law teams are listed in the 2022 Legal 500 rankings as "Leading Firms".
Our Employment Law team are listed for the ninth year running. The Legal 500 praised our "campaigning for issues including pregnancy and maternity discrimination in the workplace", and described our employment team as "always available, approachable, supportive, full of practical suggestions with a down to earth approach".
Particular mention is given to Fiona Martin, our Head of Employment Law, for her "expertise in complex discrimination cases". Laura Donnelly, Associate Solicitor, is described as "skilled at handling cases in the Employment Tribunal and often deals with director-level disputes", whilst Associate Solicitor Sarah Henderson is praised for her experience "handling whistleblowing and discrimination cases".
Meanwhile our Community Care Law team are recognised for their "specialist community care law advice to claimants, including Professional Deputies, individuals and their families in bringing challenges against decisions made by health and social services". They praise the "excellent advice in what is a complex area of law" offered by our "unique Community Care Law service". We are recognised as the "go-to firm when it comes to the need for high-level technical and practical advice on elderly client matters, particularly involving deputyship, attorneyship and funding matters."
Cate Searle, Head of Community Care Law, is described as "marvellous", and as "an excellent lawyer, highly skilled and a brilliant communicator – a delight to work with". They note Cate's "extensive experience representing clients in complex health and welfare Court of Protection litigation". Paula Jones, Associate Solicitor and Services for Professional Deputies lead is praised for "leading the team in the area of mental capacity law", whilst Clare English is described as a "first-class lawyer" with "particular expertise in resolving complex care funding disputes".
We are particularly proud that our support staff are described as "highly professional" and "extremely considerate of their clients", going "out of their way to provide the best service possible at all times".
Cate Searle, Director and Head of Community Care Law, says "It is fantastic that that the hard work and achievements of our team are once again acknowledged in our Legal 500 rankings for 2022. This shows that our founding principles of community, equality and making a real difference for all our clients are reflected back to us in our client's testimonials which have been collated by the Legal 500 team".
Contact us today on 01273 609911, or email info@ms-solicitors.co.uk.